Eco Engineers have extensive knowledge of industrial
and commercial installation works.
An ideal renewable alternative for homes, flats or buildings with limited space. Our air source systems are designed to provide hot water and heating all-year round with little maintenance and quiet operation.
Air to water heat pumps are relatively similar to air to air heat pumps. They also use latent heat in the air to generate heat within your property. However, they also have a built-in hot water cylinder. They can replace an old or low-quality boiler and provide plenty of hot water to any space.
These units run entirely on electricity, making them a great, ecofriendly option or the perfect option for buildings that have no access or restricted access to mains gas.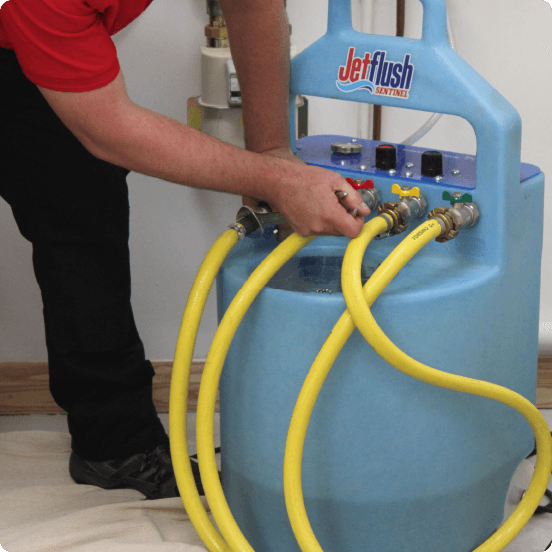 Over time, central heating systems can become contaminated with rust and debris causing a loss in performance, efficiency and cause component failure. Our power flushing service will help prolong system life and increase performance and efficiency.
A magnetic filter is fitted to the heating system with every new boiler we install. The magnetic filter not only prolongs the life of the boiler, but helps maintain the heating system to work to its maximum efficiency.
The system flush machine is a powerful pump with built-in water reservoir and magnetic filters that couples onto your heating system. It allows water and chemicals to be pushed around your central heating system at high velocity in either direction agitating and lifting debris.
Whatever work you need carried out on your bathroom; we'll be able to take care of it. Whether that's replacing your suite, adding heated towel rails, tiling walls, and floors, or having an entirely new bathroom fitted. We also have plenty of experience in fitting wet rooms with underfloor heating!
Get in touch with any questions you might have, and we'll be able to advise you and provide a quote for any potential work.
Our underfloor heating services provide a luxurious and energy-efficient heating solution for your home or commercial space. Our expert team of technicians can design, install and maintain underfloor heating systems tailored to your specific needs, ensuring maximum comfort and efficiency.
Our systems are suitable for a range of floor types, including tile, stone, wood, and carpet, and can be installed in any room of your home or business. With underfloor heating, you can enjoy a warm and comfortable space without the need for bulky radiators or noisy air conditioning units.
Contact us today to discuss your underfloor heating requirements and discover how we can transform the way you heat your space.
Only use a GAS SAFE REGISTERED ENGINEER to FIT, FIX and SERVICE your gas appliances. Click here for more info.
Only use a GAS SAFE REGISTERED ENGINEER to FIT, FIX and SERVICE your gas appliances. Click here for more info.
We provide gas & central heating services to homes across the following areas:
Cornwall
Dawlish
Devon
Newton Abbot
Plymouth
Teignmouth